Arnold Johnston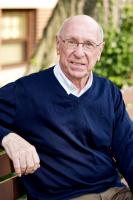 Arnold Johnston lives in Kalamazoo and South Haven, Michigan.  His poetry, fiction, non-fiction, and translations have appeared widely in literary journals and anthologies.  His books include the following: poetry chapbooks Sonnets: Signs and Portents and What the Earth Taught Us;  and The Witching Voice: A Novel from the Life of Robert Burns.  His new collection, Where We're Going, Where We've Been, is available from FutureCycle Press; and a novel, Swept Away, will appear soon from Caffeinated Press. Arnie recommends the Children's Craniofacial Association.
She tells him she got into public health counseling because private practice
Is full of clients like him.  "You'd be a gold-mine," she says.  "You'd talk and talk
And uncover more and more stuff to talk and talk about."  She stacks more books,
Then smiles at him. "And I'd make money.  I want to help clients who can't help themselves."
Lately I've thought about a dooryard
Bereft of lilacs, out of season,
The jailbreak of circus animals,
​The slouch of some beast toward somewhere.