Arnold Johnston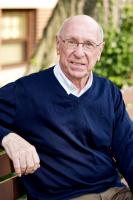 Arnold Johnston lives in Kalamazoo and South Haven, Michigan.  His poetry, fiction, non-fiction, and translations have appeared widely in literary journals and anthologies.  His books include the following: poetry chapbooks Sonnets: Signs and Portents and What the Earth Taught Us;  and The Witching Voice: A Novel from the Life of Robert Burns.  A full-length poetry collection, Where We're Going, Where We've Been, is forthcoming from FutureCycle Press; and a novel, Swept Away, will appear soon from Caffeinated Press. Arnie recommends the Children's Craniofacial Association.
Lately I've thought about a dooryard
Bereft of lilacs, out of season,
The jailbreak of circus animals,
​The slouch of some beast toward somewhere.