James Steck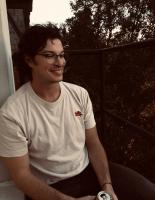 James Steck grew up in upstate New York, and now lives in Washington, DC. He teaches high school English and coaches track and field in Fairfax, Virginia. He often draws in relation to his writing. His poetry is influenced by romanticism and realism while focusing on contradictions, the body, and everyday life. You can find his work in The Ugly Writers, The Woove, and The Silhouette Literary and Arts Magazine. James recommends Planned Parenthood.
sunglasses reflect cigarette smoke
held lazily
in stained fingers 
he inhales
we depart 
over uneven concrete.