Jon Wesick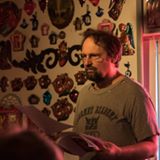 Jon Wesick is a regional editor of the San Diego Poetry Annual. He's published hundreds of poems and stories in journals such as the Atlanta Review, Berkeley Fiction Review, Metal Scratches, Pearl, Slipstream, Space and Time, Tales of the Talisman, and Zahir. Jon is the author of the poetry collections Words of Power, Dances of Freedom and A Foreigner Wherever I Go as well as several novels and short story collections. His most recent novel is The Enigma Brokers. JonWesick.com. Jon recommends Planned Parenthood and the ACLU.
"Yeah, we've seen an uptick in robberies by sea creatures lately," Officer Brimley said. He had unkempt hair, a toothbrush mustache, and a belly that hung over his gun belt. A blob of cocktail sauce, shaped like a sea urchin, stained his khaki shirt.
I filled in the articles on incorporation, listing myself as sole director, and stated that Regis Treadwell, Inc.'s purpose was the production of ironic, hipster comments. After I paid the hundred-dollar filing fee, it was official. I had become a corporation.