Craig R. Kirchner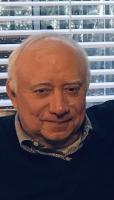 Craig R. Kirchner has written poetry all his life, is now retired, and thinks of poetry as hobo art. He loves storytelling and the aesthetics of the paper and pen.
He was nominated twice for the Pushcart Prize, and has a book of poetry, Roomful of Navels. After a writing hiatus he was recently published in Poetry Quarterly, Decadent Review, New World Writing, Skinny, Neologism, Wild Violet, Last Stanza, Unbroken, W-Poesis, The Globe Review, Your Impossible Voice, Fairfield Scribes and has work forthcoming in Ginosko, Last Leaves, Literary Heist, Blotter, Quail Bell, Yellow Mama, and The Light Ekphrastic. Craig recommends Feed the Children.
Apathy, bow-tied and looking the other way, rarely speaks up, but points out that, just getting on with your life is probably the most prodigious path.