Xander Bilyk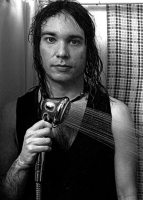 Xander Bilyk received degrees in sound arts and creative writing in Minneapolis, and now lives in New Orleans. He is a writer, musician, stand up comedian, and currently makes his living working with spaghetti and various other forms of noodle. Photo by JD Western.
The nails came, squelching through him and pounding into me, each one a comet
destroying a planet, each one exploding
like sperm on an egg. People watched,
becoming christians, becoming saints,
there weren't really saints before, saint Mary,
saint Mary, the thief beside us became a saint.