Tobey Hiller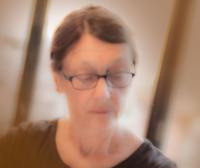 Tobey Hiller writes poetry, fiction and flash. She's the author of four books of poetry and one novel. Her poems and stories have appeared in a variety of journals, such as Ambush Review, Askew, Canary, The Fabulist: Words & Art, Shotglass Journal (MusePie Press), Here Comes Everyone, Mediterranean Poetry (online), Sisyphus, Sin Fronteras, Spillway, and five anthologies. She also writes both realist and fabulist fiction; one of her stories, Splinter, won First Prize in CRAFT's 2020 Short Story Elements Contest for Conflict. Her fiction collection Particle to Wave: A Fabulary was named a finalist for Omnidawn's Fabulist Collection Contest. Her most recent book of poetry is Crow Mind (Finishing Line Press).
I
sympathize with horses, who unrolled the plains. grass grew wide
in their tracks. yes, it's on odd world, Dan, beyond our reasons.
might as well count violets, weigh wind, chart the angle of an eagle's glance,
ask which nuclear bomb the US used to blow holes near the Colorado River.
It was a dark and stormy noon. Lightning struck the front door. It flamed and crumbled to ash. In he walked. He towered, he stuck out his lower lip, he reached out a surprisingly small hand with gilt fingertips. His blond pompadour obscured his eyes.