Jacqueline Jules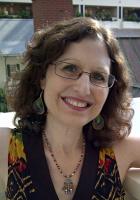 Jacqueline Jules is the author of Manna in the Morning (Kelsay Books, 2021) and Itzhak Perlman's Broken String, 2016 winner of the Helen Kay Chapbook Prize by Evening Street Press. Her work has appeared in over 100 publications including The Paterson Literary Review, Unlikely Stories, and Imitation Fruit. She is also the author of 50 books for young readers, including Tag Your Dreams: Poems of Play and Persistence (Albert Whitman, 2020) Visit her online at www.jacquelinejules.com.
Wisdom presumably learned
from the stabbing death
of Kitty Genovese in 1964
and the neighbors who watched,
​each waiting for the other to act.