Shannon Frost Greenstein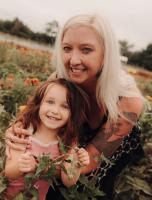 Shannon Frost Greenstein (she/her) resides in Philadelphia with her children and soulmate. She is the author of These Are a Few of My Least Favorite Things, a full-length book of poetry available from Really Serious Literature, and Pray for Us Sinners, a short story collection with Alien Buddha Press. Shannon is a former Ph.D. candidate in Continental Philosophy and a multi-time Pushcart Prize nominee. Her work has appeared in McSweeney's Internet Tendency, Pithead Chapel, Bending Genres, and elsewhere. Follow Shannon at shannonfrostgreenstein.com or on Twitter at @ShannonFrostGre. She recommends the Philadelphia Bail Fund.
We've got Fritz, as always, to guide the way
for our philosophical jaunt today
and to remind us all, though it is grim,
​that God is dead and we have killed him.