Robert Leo Heilman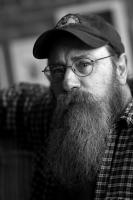 Robert Leo Heilman has been writing professionally for thirty-four years. He is the author of three literary nonfiction books and in 2013 wrote and directed a documentary film about civil disobedience. He lives in Myrtle Creek, Oregon, a small town where the poverty rate runs at twenty-five percent. Robert recommends UCAN Food Bank and the Douglas County Library Foundation.
The Hoedads were real hippies. They weren't television and movie hippies—all flowers and headbands and incense—but actual funky, fiercely independent and often downright ornery Freaks, who were also idealistic and compassionate almost to a fault.
And what difference does it make if a man gets drunk and takes his pet goat for a walk anyway? This is America, the Land of the Free, and you would think a man should be able to drink a little and fall in a ditch without some busybody calling the cops on him.