Susan M. Schultz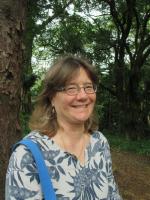 Susan M. Schultz has lived and taught in Hawai`i since 1990. She is the author and editor of several books of criticism, as well as prose poetic books, including two volumes of Dementia Blog (from Singing Horse Press) and several of Memory Cards. Her most recent books are Memory Cards: Thomas Traherne Series (Talisman), Memory Cards: Simone Weil Series (Equipage) and I Want to Write an Honest Sentence (Talisman). She is a life-long fan of the St. Louis Cardinals. Photo by Radhika Webster Schultz.
A man waves his AR-15, a woman her tiny pistol, at non-violent demonstrators in St. Louis. They must only eat cake in that palace of theirs; inside, there's a wooden hiding place from the Reign of Terror.
One Trump supporter prays to a 6' cardboard cut-out of his hero each morning as he leaves the house. No one can pinpoint when this happened. They are hyphenated anti-Americans.