Sujata Sahani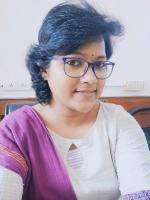 Sujata Sahani is a Ph. D candidate at Ravenshaw University, Cuttack in the Department of Odia Literature. Her writings appear in numerous Odia journals. Her debut book of poetry, Naritie Kalam Dhariba Dina (Pakshighara Prakashani) was published in 2017 and was shortlisted for the Kendra Sahitya Akademi Yuva Puraskar twice. Her literary awards include the Akhil Mohan Foundation Award, Ananya Award of NAWO, Nabanita Journal Award, and Bhakti Smruti Award among others. She grew up in Gobindapur and lives in Bhubaneswar, Odisha in India.
While the greenery was being wiped out with the club, while
the golden womb of the earth was being looted, while the
paddy field was being ruined and the green pan leaves were
being wilted, where were you, poet?