Roberta P. Feins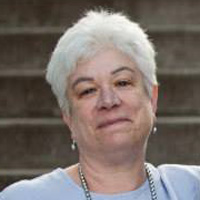 Roberta Feins received her MFA in poetry from New England College, where she studied with Judith Hall, DA Powell, Carol Frost and Alicia Ostriker.  Her poems have been published in Five AM, Antioch Review, The Cortland Review and The Gettysburg Review, among others.  Her chapbook Something Like a River, was published by Moon Path Press in 2013, and Herald won the 2016 Coal Hill Review Chapbook Contest, and will be published by Autumn House Press in 2017. Roberta edits the e-zine Switched On Gutenberg.
Dark hairs above her lips are exposed
by  your lens. Behind this photo
looms a large volume of Western art.
A coin bought your admission, your presence,
keeps her eyes closed, keeps her voice silent
as if she were dead.