Moira Crone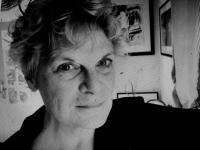 Moira Crone is an artist and writer living in New Orleans. A former director of a creative writing MFA program, and author of seven books of fiction and over fifty published short stories and essays, she has always painted and studied painting when not engaged in a writing project.
She was born in Goldsboro, North Carolina and studied art and writing at Smith College. After graduating from the Johns Hopkins Writing Seminars she took a job in the writing program at Louisiana State University, where she taught for over twenty-five years.
In 2017, after confronting health issues and an extended stay in Paris, she began a serious studio practice in painting and collage. Her works have appeared in juried shows in New Orleans and the region at Lemieux Gallery, Politico Pop-Up 2018, and in a two-woman show, Alchemy of Night, at the 928 Julia Gallery in 2019, and in the 2020 summer group show, Perseverance, at the Second Story Gallery.
Her fiction has brought her an NEA grant, a residency at the Mary Ingraham Bunting Institute of Harvard/Radcliffe, The Robert Penn Warren Award from the Fellowship of Southern Writers, and recognition as a finalist for the Philip K. Dick Award, an international prize for science fiction paperback of the year. Her book The Not Yet, set in a future flooded New Orleans, has been taught in classes on Eco-Criticism, political science, literary decadence, and speculative architecture classes.
"Alchemy of Night: A Bywater Duet" was a two-woman show in New Orleans in December, 2019, featuring paintings by Moira Crone and photographs by Leona Strassberg Steiner.