Meg Tuite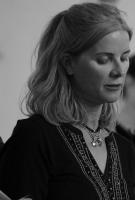 Meg Tuite's latest book is White Van from Unlikely Books. She is the author of Domestic Apparition (San Francisco Bay Press), Bound By Blue (Sententia Books), Meet My Haze (Big Table Publishing), and Bare Bulbs Swinging (Artistically Declined Press), as well as five chapbooks of short fiction, flash, poetic prose, and multi-genre. She teaches workshops and online classes through Bending Genres and is an associate editor at Narrative Magazine. She is also the editor of eight anthologies. She is included in the Best Small Fictions of 2021. Her blog: http://megtuite.com. Meg recommends Pathways of Healing Animal Rescue.
The girl capsizes herself with alcohol, Black Beauties, angel dust, sex with strangers, and slicing. Darkness barely discusses her. Blood covers our kneecaps one night from smacking into a lamppost. We buckle under her when she passes out.
Sex gluts with grief and rutting. Shelly's lips haven't been ransacked since the wedding, but Micky plows her torso with all the gusto his tiny limbs can muster. Mornings, damp with baked muffins and billowing coffee, smile blandly; cling to the mirror of each other. The couple practice lurid hearsay, family claws, spoonfed silences.