Marc Frazier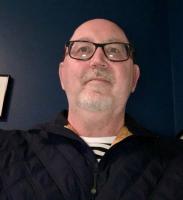 Marc Frazier has published poetry in over a hundred literary journals. He has also published memoir, fiction, essays and reviews of poetry collections. Marc, the recipient of an Illinois Arts Council Award for poetry, has been nominated for a Pushcart Prize and a best of the net. He is a Chicago area LGBTQ writer whose books are available online. He is active on social media especially his Marc Frazier Author page on Facebook. He endorses Feeding America.
What's it like to be nineteen?
Not all heart emojis and dorm parties
For a survivor carrying all that guilt.
It's too much sitting in classes now:
There was no getting around it. Everyone was old. The gay writing group, Chicago Scribes, had started in 1980 and was now the oldest, continuously running gay workshop and publishing outlet in the country.