Gaby Bedetti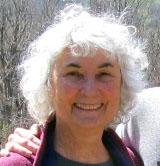 Born in Schaffhausen, Switzerland, Gaby Bedetti is the American translator of Henri Meschonnic's work, a contributor to Lexington's poetry blog and a teacher at Eastern Kentucky University. While completing her PhD in comparative Literature, she co-founded the University of Iowa Museum of Art Bulletin. She has published in Off the Coast, Poet Lore, Italian Americana, Diacritics, and elsewhere.
At the afternoon concert, the parade and the pyrotechnics
at the arboretum, will the fanfare feel genuine?