Brad Richard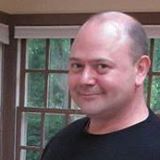 Brad Richard is the author of three books of poems and two chapbooks, including Motion Studies (The Word Works, 2011), Curtain Optional (Press Street, 2011), and Butcher's Sugar (Sibling Rivalry Press, 2012). His poems and reviews have appeared or are forthcoming in American Letters & Commentary, Barrow Street, Gettysburg Review, Guernica, Literary Imagination, Mississippi Review, New Orleans Review, Passages North, Plume, Witness, and Xavier Review, among other journals. 
Your ass looks just like I thought it would—
Mike, ex-merchant marine, to me, fourteen,
phenomenal flicker of my puerile form
quickened by his glance, made real in his words.