Amy Ballard Rich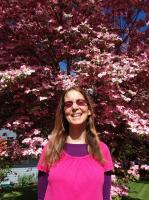 Amy Ballard Rich is a retired Montessori preschool teacher, currently living on the scenic Oregon coast. She has been published in numerous online and print publications, including everydayfeminism.com, Milvia Street Art and Literary Journal, and Penumbra Literary Journal. She has written two chapbooks and is contemplating a third. When not writing or editing, she can be found cheering on other poets, hugging trees, and trying to fight racism and bigotry.
I am awake late,
watching a screen in awe,
as courageous women
throw their head scarves into flames
"Great band", I told her as I dried my hands.
I was lying, as they were a horrendous
country rock garage band
trying to masquerade as a blues band
in the very white small city
​of Eugene, Oregon.