Zary Fekete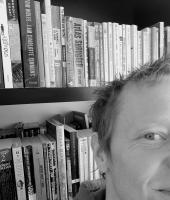 Zary Fekete…
…has worked as a teacher in Hungary, Moldova, Romania, China, and Cambodia.
…lives and works as a writer in Minnesota.
…has been featured in various publications including Zoetic Press, Bag of Bones Press, and Mangoprism.
…has a debut chapbook of short stories coming in February 2023 from Alien Buddha Press and a novelette (In the Beginning) coming out in May from ELJ Publications.
…enjoys books, podcasts, and long, slow films. Twitter: @ZaryFekete
Once a year in Budapest the local government of each district has an event called "lomtalanitás" or "ungarbaging", an opportunity for people to rid their closets and basements of anything that they don't need.