Vernon Keeve III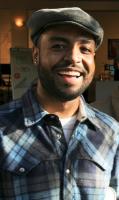 Vernon Keeve III is a black and queer writer from Virginia, and a high school teacher in Oakland, California. He has been featured at the SF Poetry Jazz Festival, the Berkeley Poetry Festival, and the Oakland Book Festival. His writing has been published in Ishmael Reed's Konch Online Journal, Black Girl Dangerous, Entropy, and Foglifter, and Blues Arrival: Stories of the Queer Black South and Migration; he received the Zora Neale Hurston Award from Naropa University in 2012. His book of poetry and essays, Southern Migrant Mixtape, will be released in January of 2017 with Nomadic Press.
Cops don't say that they are afraid of blacks,
they just shoot them,
so why are you bringing it up on this fuck app?