Tsipi Keller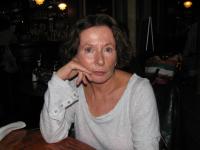 Tsipi Keller was born in Prague, raised in Israel, studied in Paris, and now lives in the U.S. A fiction writer (short stories, novellas, novels) and a translator of Hebrew poetry into English, she's the author of eleven books, and the recipient of several literary awards, including National Endowment for the Arts Translation Fellowships, and New York Foundation for the Arts Fiction grants. Her fiction is often characterized as literary/urban/noir, and her short stories and novel excerpts have appeared in journals and anthologies in the U.S. and abroad (in German, Romanian, and Hebrew translations).
She had a strange neighbor of an indeterminate age. He could be twenty, she thought, or maybe forty. She was new in the building, she had moved in a few months before, armed with fresh hopes, hopes that seemed to have materialized, except for this one neighbor who became a blot on her anticipated existence
This is it, then, the festivities, the high color, the bewildered spark of crowds. It's not what I've expected, but it'll do. I'm lucky to be here, I was invited, I didn't have to beg. That's one thing I'll never do, I'll never beg.