Thaddeus Rutkowski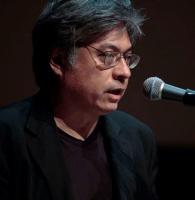 Thaddeus Rutkowski is the author of seven books, most recently Tricks of Light, a poetry collection. He teaches at Medgar Evers College and Columbia University and received a fiction writing fellowship from the New York Foundation for the Arts.
The populists might tell me to leave the city, especially if I'm in their city. In fact, they might tell me to leave the electrical grid altogether, but why should I live off the grid?
The shop's walls are covered with colorful stencils. The choices are many: I could get words, abstract patterns, images of figures, or drawings of mythical beasts scored beneath my skin. But I want the devil's head with its tongue hanging out.