Teresa Sweeney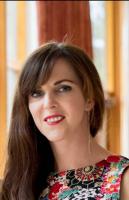 Teresa Sweeney is from Galway, Ireland and has an MA in Writing from NUI Galway, Ireland. She has been published in journals including Dangerous Women Project, Roadside Fiction, Number Eleven Magazine, Outburst Magazine, and was a runner-up in WOW! Awards 2011. Teresa was shortlisted in Over the Edge New Writer of the Year, 2014, 2017, and 2018. She was a featured emerging writer reading at Over the Edge in November 2014, and read at Cuirt Literary Festival in April 2015. In January 2018, Teresa self-published a collection of short stories, Stars in the Ground.
Her website is www.teresasweeney.com. 
I knew you'd never go to the pub with the rest of them when the grave diggers started shovel the earth back over him. Murmuring voices withdrew slowly, shadow like, their work was done, a grey black fluid mass that moved towards the pub. That's why I went to your house. I wanted to see you broken, undone, alone.