Taylor Thomas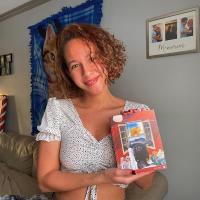 Taylor Thomas (she/her) is a biracial & bisexual emerging writer from Indiana. Her work has been published or forthcoming in Bayou Magazine, Salt Hill Journal, The Journal, So to Speak Journal, and more. She received the Outstanding Literary Essay award from Voices of Diversity in 2021. She currently attends the University of Notre Dame's MFA in Creative Writing. She lives in South Bend, Indiana with her husband, Herschel, and her dogs, Bella & Buster.
Accommodation.
Spelled out so clearly
like I'm begging, and you're on the receiving end,
​and god damn isn't this enough, Taylor?