Shane Monds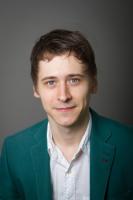 Shane Monds has composed music for traditional mediums such as choir and orchestra, film, micro‐tonal piano, art installations, Cajun fiddle, traditional Chinese instruments and much more. His music has been heard at a variety of venues ranging from St. Peter's Basilica in the Vatican to the documentary film channel to the City Hall in Nafplio, Greece.
Shane has received major commissions from the Indianapolis Symphonic Chorus, The Louisiana Sinfonietta, HGOco (Houston Grand Opera Company), and the Vechhione/Erdahl Duo whose commission was made possible by a grant from the American Composers Forum. He is currently the Robert Yekovich Teaching Fellow at Rice University where he is pursuing a doctorate in composition.
Live music consumption is the small minority of most people's musical experiences. These observations have led me to try to create musical pieces/ products/ events that are unique and memorable. I hope to make things that are really only fully experienced if seen live.