Rodger Kamenetz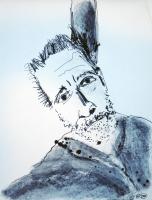 Rodger Kamenetz writes poetry and does natural dreamwork in New Orleans. He's on the faculty of the C.G. Jung Center in Evanston, Illinois. His most recent books of poetry are To Die Next To You (Six Gallery) and The Lowercase Jew (Northwestern). Other books include The History of Last Night's Dream and The Jew in the Lotus. You can find him at www.thenaturaldream.com or on Twitter @Jewinthelotus. Picture by Michael Hafftka.
Our friend Jeffrey has traveled to many cities: Cucamonga. Bentonville. Portsmouth. Providence. In each city he has gotten on his knees. He has prayed to the local god or goddess. In Newark he spoke to Sarah Vaughn in a cocktail lounge and to Allen Ginsberg floating high above the Jewish cemetery next to the traffic jam. Getting the okay from Allen and Sarah, he renamed the airport so we can fly into Allen Ginsberg. Then he flew into Louis Armstrong and learned how to second line.
There was a room for people unable to feel. Inside were captions cut away from their pictures. One task of the day was to find the picture that went along with the caption. When the teacher came into the room wearing his apron of severed heads several people unable to feel cried out for the first time. But it was faux disgust.