Ralph Angel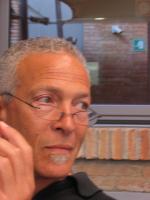 Ralph Angel's latest collection, Your Moon, was awarded the Green Rose Poetry Prize. Exceptions and Melancholies: Poems 1986-2006 received the PEN USA Poetry Award, and his Neither World won the James Laughlin Award of The Academy of American Poets. In addition to five books of poetry, he also has published an award-winning translation of the Federico García Lorca collection, Poema del cante jondo / Poem of the Deep Song.
Like a stone that slows
as it sinks to the bottom of a well.
Like a person who saw paradise from the outside
and never found a way back home.