R. Keith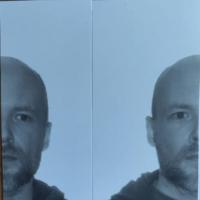 R. Keith is a persona that works with poetics, fiction, visuals.
Currently he is publishing one book each month for a year.
Latest books include: 9999 (Cajun Mutt Press), Plangent, The book of (Alien Buddha Press), a polemic study of negative space (Ma Press), FLOP (Rust Belt Press) His visual art has been presented in galleries in Canada, Malta, and Russia.
He recommends the Brain and Behavior Research Fund.
The stink filled the room as Raphael squealed. The boots melted to the red elements and he couldn't get them off. I climbed up on the chair and slung my arm around Raphael's waist and pulled until both of us thudded on the floor. I stood up and Raphael didn't.
pouting, making a hand gesture. furrowed. a photo of a sheet of ice. having there at various monitoring points. reddish dust, uncomfortable. the foam springs. compensation for a more dignified life. exploration sufficed dropped into water. involuntary moan so.