Ndaba Sibanda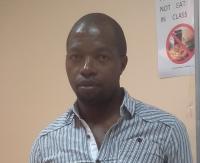 Ndaba Sibanda is a passionate author whose works of art have been featured in several international anthologies, magazines and journals. He is the author of Love O`clock and The Dead Must Be Sobbing. He has co-authored more than twenty-five published books.
Do you want my granddaughters and sons
who are sweating it out in foreign lands
to starve me after getting wind that I am
attending useless meetings arranged
by the same crazy and clueless fellows...