Mindy Levokove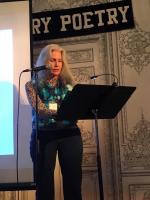 Mindy Levokove is a multi-media performance poet; a member of Brevitas, who sings for peace, and, with Global Water Dances, she dances for water. She's performed in many, assorted, iconic New York venues, and published poems in Voices (NYCWP), Gem Magazine, The Journal of Speculative Poetry, The Literary Review - East, Curare, Brevitas #14 and #15, CLWN WR, Stained Sheets and other journals. For more than 20 years, Mindy has curated and co-curated readings at ABC No Rio and at the 6th Street and Avenue B Community Garden. Her forthcoming poetry collection is Mount Eden Avenue. Mindy recommends the Southern Poverty Law Center.
In that pebble a magic fish
answers your questions.
within your grip
dime and democracy.