Maria Damon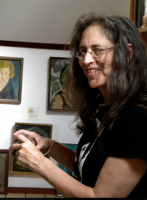 Maria Damon teaches poetry and poetics in the Department of Humanities and Media Studies at Pratt Institute. She has published two volumes poetry scholarship and a number of poetry collaborations, with mIEKAL aND, Jukka-Pekka Kervinen, Alan Sondheim, Adeena Karasick, and Michelle Greenblatt. She works currently at the text/textile nexus.
Krachan wake up read a nice Joyce. KRAKEN Wake up. rejoice. Keret KENWAKEUPREADGOYCE.
At this point in the convo finnigan aka FINNEGOOM went back to sleep. Slooming into the sweet gloomish oobloovioom.