LK Barrett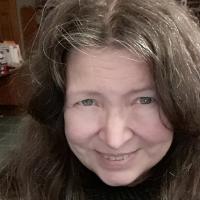 LK Barrett lives in Tallahassee, Florida and wakes up in a good mood six of seven days. She is comforted by the fundamental absurdity of the world, the persistence of beauty, and the inexorable finality of justice. She is a Viet Nam era USN veteran, and a student of Ganteng Tulku Rinpoche. She is as yet a marginal Buddhist. She keeps trying. She has written poetry from the age of six, because she has no choice but to do so. The thing that is using her for a voice is fond of mixed meter, slant rhyme, and the Oxford comma.  
I am a veteran of the apathy war—
a timeless soldier of relentless joy,
and I am listening to liars,
​from dawn to dusk—
you are quivering
in sanitary hostility
on a red red face.
You are a vanishing drain
of attention.