Larry Goodell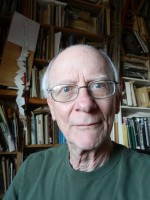 Larry Goodell lives in Placitas, New Mexico. He started his own performance poetry in 60's, New Mexico style. He has collaborated with artists, taught and started workshops. He emphasizes performance but promotes the poet as publisher as his Duende Press proves. His writing often generates from gardening, from word-play, from the socio-political and from his love and long relationship with Lenore Goodell. See http://www.larrygoodell.com/ and check out some of his archives at http://www.granarybooks.com/collections/goodell/.
Snap your fingers and the dancing girls appear, it's that simple.
Oh, they are dancing women. Now they are men.
Do you see what I mean. I have taken you over. You have become
a control freak. A control pervert. A wrong shoe on the right foot.
Fuck the rich. They are the assholes of power.
An asshole is an asshole and not a sword.
Their tight grip on our destiny is dissolving.