Kevin M. Hibshman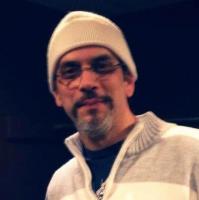 Kevin M. Hibshman has had poems, reviews and collages published in many journals and magazines world wide, most recently in Rye Whiskey Review, Drinkers Only, The Crossroads and 1870. He has edited his poetry zine, Fearless, since 1990 and is the author of sixteen chapbooks including Love Sex Death Dreams (Green Bean Press, 2000), Incessant Shining (Alternating Current, 2011). and Slice Of Life (Alternating Current, 2014). Kevin received a BA in Liberal Arts from Union Institute and University/Vermont College in 2016. He was born in Philadelphia and resides in Pennsylvania with his partner, William, a painter and three cats. Future projects include a surrealist novel and manuscripts for more poetry chapbooks. Kevin recommends the Audre Lorde Project.
Not see-through.
No hole in the cosmic tapestry.
A deep, honest blackness that will slowly drink you in.
Where you don't have to run, brother.