Kate LaDew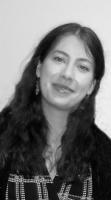 Kate LaDew is a graduate from the University of North Carolina at Greensboro with a BA in Studio Arts. She resides in Graham, NC with her cats Charlie Chaplin and Janis Joplin. Kate recommends Planned Parenthood South Atlantic.
and I don't tell anyone because then they would know
and the fear of it could've been worse
rising like an echo from someone I love
is more frightening than any hand over my mouth
They didn't wear hoods and Sam recognized their faces.  Some from the church balcony.  Some men who squeezed his bicep, asked him to come work for them, pushed him down when he did not.