Karen Neuberg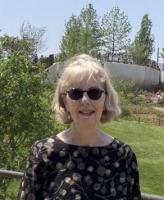 Karen Neuberg's poems have recently appeared or are forthcoming in Black Moon, Glassworks, Gone Lawn, Inflectionist Review, and Verse Daily. She is the author of PURSUIT (Kelsay Books, 2019) and the chapbook the elephants are asking (Glass Lyre Press, 2018). She lives in Brooklyn, NY and is associate editor of the online journal First Literary Review East. Karen recommends the Environmental Defense Fund.
And if you can't do, think you can't do
anything, think again. Hold a piece of me
in your hand. Hold it in your hand
and place your hand over your heart.
See what you see. Do not close your eyes.
Recall the way I smell after rain.