Joe Bisicchia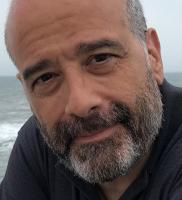 Joe Bisicchia writes of our shared dynamic. An Honorable Mention recipient for the Fernando Rielo XXXII World Prize for Mystical Poetry, he has written over two hundred individual works that have been published in over one hundred publications.His third poetry collection, For You to Heal is forthcoming and will be published by Cyberwit. Love Love to Love and widewide.world to unwind, both also published by Cyberwit, challenge the reader to cut through the layers and complexities of the world and find at the core the true meaning in this gift we all share, simply the God-given gift of love. His website is www.widewide.world. Joe recommends The Society of Saint Vincent de Paul, SVdP Cares, Hurricane Ian Relief.
We plant our poems aside this bus stop,
hoping to leave some of our seeded selves here
upon the weeds of earth, granted the lesser parts
of ourselves, we plant, as the route will carry
​the rest of our bleeding parts away.