Jen Schneider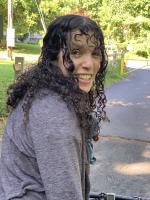 Jen Schneider is an educator who lives, writes, and works in small spaces throughout Pennsylvania. Recent works include A Collection of Recollections, Invisible Ink, On Habits & Habitats, and Blindfolds, Bruises, and Breakups. She recommends Philly ASAP.
vote:  both noun and verb
building blocks in cotton socks
​a ___ canvas
from the garden section – of a big-box. grab the goods, off the shelf. or a random lot – picked while the children should have been focused on homework or hopscotch, yet the service lines are monitored by bots.