Jeffrey Cyphers Wright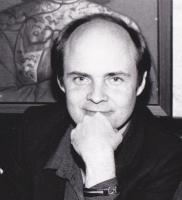 Jeffrey Cyphers Wright is a publisher, critic, eco-activist, and artist. He is the author of 15 books of verse, including Blue Lyre from Dos Madres Press. He has an MFA in Poetry from Brooklyn College where he studied with Allen Ginsberg and also taught. Recent poetry is included in New American Writing, 2017. For many years, Wright ran Cover Magazine, The Underground National. Currently, Wright stages events showcasing artists and writers at KGB Lit Bar and La MaMa ETC in NYC, in conjunction with his art and poetry journal, Live Mag! He regularly contributes to American Book Review. Wright is a Kathy Acker Award recipient for 2018.
From Clinton Community Garden
to South Street—I put up
revolutionary green propaganda:
SAVE THE GARDENS on fences.
Press flesh, spreading the word.