Howard Richard Debs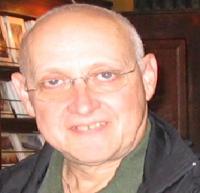 Howard Richard Debs is a finalist and recipient of the 28th Annual 2015 Anna Davidson Rosenberg Poetry Awards; his work appears in publications such as Yellow Chair Review, Silver Birch Press, The Galway Review, New Verse News, Cleaver Magazine, among others, his essay "The Poetry of Bearing Witness" in On Being's blog, and his photography in select publications, including in Rattle online as "Ekphrastic Challenge" artist and guest editor; his full length work Gallery: A Collection of Pictures and Words (Scarlet Leaf Publishing) is forthcoming in latter-2017. He is listed in the Directory of American Poets & Writers.
6. The Protesters: massed in the streets,
shouting, lifting signs high in the air,
all to no avail. It was over—they just
​did not know.