Gary Beck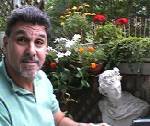 Gary Beck has spent most of his adult life as a theater director and worked as an art dealer when he couldn't earn a living in the theater. His original plays and translations of Moliere, Aristophanes and Sophocles have been produced Off Broadway. His poetry, fiction and essays have appeared in hundreds of literary magazines and his published books include twenty-one poetry collections, seven novels, three short story collections and one collection of essays. Published poetry books include: Dawn in Cities, Assault on Nature, Songs of a Clerk, Civilized Ways, Displays, Perceptions, Fault Lines, Tremors, Perturbations, Rude Awakenings, The Remission of Order and Contusions (Winter Goose Publishing); Blossoms of Decay, Expectations, Blunt Force and Transitions (Wordcatcher Publishing); and Earth Links (Cyberwit Publishing). Gary lives in New York City. Gary recommends City Harvest.
So here I was in a grubby med-center with at least a season ending injury, probably a career sign off, with no ideas for the future. I didn't have a nest egg. I never managed to save, despite a meager life style. I was an ancient journeyman in a young profession, without name or fame that could be traded in for civilian security.
Then one day, a miracle. Erasmus found an ancient Steinway Concert Grand in a curio shop. It emptied my account of all the credits I had earned, plus some. It came to the house on one of the few days people went out without respirators.