Gabriel Ricard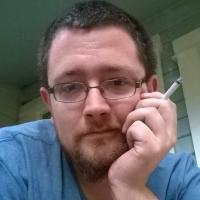 Gabriel Ricard writes, edits, and occasionally acts. He is a contributor with Cultured Vultures, a contributor with Drunk Monkeys, and an editor with Kleft Jaw. His first book Clouds of Hungry Dogs is available now. He lives on Long Island.
It's easy to say "Fuck Florida"
because of the Christians who like big sweaty fake tits
and wear t-shirts and hats to emphasize their enthusiasm,
but on a bridge made entirely out of glued dimes
they'll sign off on murdering a gay couple
They dance badly. Thousands of preteen heat proms
burning each other alive, smashing wheels into forks and spoons,
and fucking on beds made of thick, wet, addictive paint.