Frederick Pollack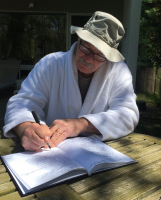 Frederick Pollack is the author of two book-length narrative poems, The Adventure (Story Line Press, 1986; to be reissued by Red Hen Press) and Happiness (Story Line Press, 1998), and two collections, A Poverty of Words (Prolific Press, 2015) and Landscape with Mutant (Smokestack Books, UK, 2018). In print, Pollack's work has appeared in Hudson Review, Salmagundi, Poetry Salzburg Review, Manhattan Review, Skidrow Penthouse, Main Street Rag, Miramar, Chicago Quarterly Review, The Fish Anthology (Ireland), Poetry Quarterly Review, Magma (UK), Neon (UK), Orbis (UK), Armarolla, December, and elsewhere. Online, his poems have appeared in Big Bridge, Diagram, BlazeVox, Mudlark, Occupoetry, Faircloth Review, Triggerfish, Big Pond Rumours (Canada), Misfit, OffCourse and elsewhere. Fred recommends Amnesty International.
Whales, smaller now, approach the shore
to urge a creature
like the proto-bear that became the proto-whale
to adopt the life aquatic.