Erwin Dink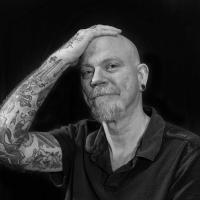 Erwin Dink is a poet, visual artist, invocateur, accidental yogi, and a dilettante. He dabbles in patamysticism which is the spiritual branch of pataphysics. Erwin recommends MenHealing.
O wretched state! O bosom,
black as death! previous to the previous,
of our blood in the caravans.
I'm IOWA pariah. I'm heterodox writer. I workshop Twitter, they says all. I brought shame. Esteemed institution happen. I'm IOWA pariah.