Deborah Kennedy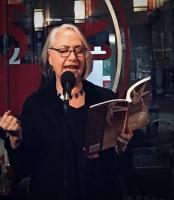 Deborah Kennedy's work focuses on the challenging relationship between ourselves and the larger natural world. Her last major project is a book featuring her ecopoetry and detailed ink illustrations entitled Nature Speaks: Art and Poetry for the Earth—a recipient of the 2017 Silver Nautilus and the 2017 Eric Hoffer Poetry Book Awards. Her work has also appeared in numerous journals online and in print. Kennedy lives in San Jose, CA, where she teaches art and poetry workshops and presents poetry readings with her artwork to student, poetry and ecology groups. Her poetry and art can be enjoyed at https://www.instagram.com/deborahkennedyart/ and https://www.deborahkennedyart.com/. Deborah hopes you will support BioIntegrity's global climate change solutions.
Hear the young girls betrayed by innocent dreams 
of love, stolen from weeping suburban streets
drugged and sold behind the truck stop's diner 
​soft young flesh shaking in the shadows.