Dawn Corrigan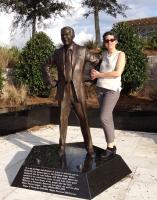 Dawn Corrigan's poetry and prose have appeared widely in print and online. Her masthead credits include Western Humanities Review, Girls with Insurance, and Otis Nebula, where she currently serves as assistant editor. She works in the affordable housing industry and lives in Myrtle Grove, Florida. Dawn recommends the Open Books Prison Books Project.
a strategy akin
to how the mind handles
a ghastly memory,
the kind that takes gallons
of whiskey to suppress.
In the morning before school, while her mother and sisters discussed the topics of the day such as gluten (against it), the Ice Bucket Challenge (for it), and the growing number of civilians being shot by law enforcement professionals (for it), Bookworm read the Cheerios box.