Darryl / Dadou / Baron Wawa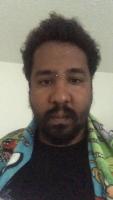 Darryl / Dadou / Baron Wawa is a Port-au-Prince born Haitian-American who studied Photography and Creative Writing. He enjoys chocolate and good books. That said, maybe a movie is a good book. He loves to work with images and words and their pairing.
Aida greets him at the door with a smile and lets him in. He is disappointed that she has changed clothes as if her outfit held the magic that had enticed him; she is wearing a white dress less revealing at her cleavage and he can make out a bathing suit top underneath. There is a talk show on the flat screen that she quickly turns off as he comes in. She seems a little awkward.
Those shoulders
were never a shelter
but once my home
when he still played and loved
Pages