Daniel J. Flore III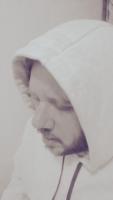 Daniel J. Flore III's poems have appeared in many publications. His first two books are Lapping Water and Humbled Wise Men, Christmas Haikus, by GenZ Publishing.
The 30 year old cool kids are emptying their children and youth all over the parking lot. Dirty diapers without an owner that once belonged to their kids or maybe themselves, smelling like a hefty child support court story...
The lining on Mr. Chepman's blue Upper Valley Cab Co. jacket looks like the interior of his car and he is driving it two buildings over to pick up Mrs. Plarst for her dialysis ride. She hates him because he plays Motown Mornings on Oldies WLLZ, and he hates her because he has to fold up her walker and put it in his trunk.