Cornelius A. Sasquatch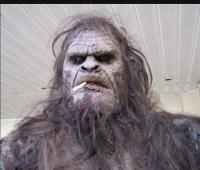 Sasquatch (Mr. Cornelius  A.) has been a resident of Washington State for over one hundred years and his hobbies include writing, drinking and collecting old vintage pornography. He is the author of the widely acclaimed book Hair Styles For Humans and his philosophical essay Should We Eat Humans? He currently lives in the woods where he chain smokes cigarettes and types.
So, our conversation encompassed a myriad of topics: music, art, nature, why humans are nearsighted and stupid (despite his species affiliation), Why chocolate, wine and cigarettes are the most important contributions humanity has given earth, and ultimately, poetry.