Carla Sameth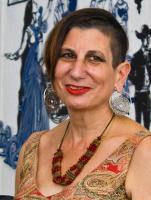 Carla Sameth is a writer and mother living in Pasadena. Her work has appeared in several anthologies and other publications such as Brain, Child, Brain Teen Magazine, Mutha Magazine, Full Grown People, Brevity Blog, Angels Flight Literary West, Tikkun, Entropy, Pasadena Weekly, Hometown Pasadena, and La Bloga. She teaches at the Los Angeles Writing Project (LAWP) at California State University Los Angeles (CSULA).  She is a member of the Pasadena Rose Poet who present "poetry within reach and in unexpected places." Carla has an MFA in Creative Writing (Latin America) from Queens University. Previously she ran her PR firm, iMinds PR. Check out carlasameth.com, or Twitter @carlasameth.
Charlotte to Savannah. It smells like bad luck and sorrow plus a look of too much
crystal meth and DIY tattoos. 40 years
since I've taken greyhound.